Direct to Film printing is a relatively new method of garment printing. Instead of printing directly onto the garment like during the DTG process, the artwork is first printed on transfer paper. Once the design is on the transfer paper, it's transferred onto the garment using a heat press. The design stays on the garment thanks to powdered glue that coats the back surface of the transfer sheet.
In this post, we'll present the top 5 advantages of DTF printing. Let's begin!
Why choose DTF printing?
1. DTF can be used to print on ANY material.
When using DTF printing, it doesn't matter what fabric you're printing on. Your design can be printed on a traditional cotton t-shirt, but it'll look just as good when produced on a athletic polyester garment, tracksuit or even a jacket. Traditionally these garments require specific approaches to produce a durable, quality print. DTF simplifies the process, as you can simply heat-press the design onto the garment of your choice, and it'll work.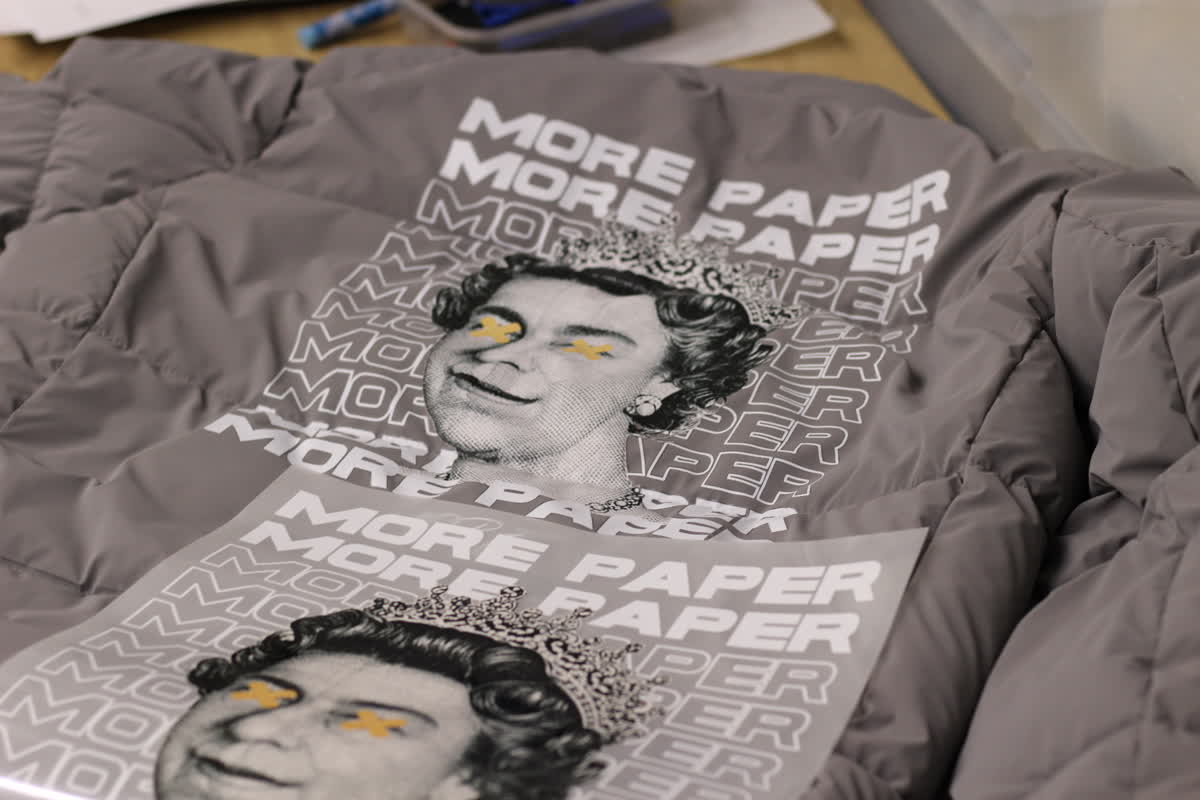 2. DTF allows printing complex graphics with ease.
This is a significant advantage of the DTF process. Artwork limitations are virtually non-exsitent. DTF allows you to print designs that feature unlimited colours, gradients and shadows - Something that printing shops have been wanting to do for ages, but were unable to with other technologies.
3. DTF feels super smooth, and integrates with the fabric.
DTF prints give you a very soft, smooth and satisfying hand-feel. Despite being glued onto the fabric, you can't help but feel like the design is truly part of the garment. We've printed many designs using DTF for our customers, and the results are always great.
4. DTF is less error-prone.
What do we mean by that? Well, mistakes happen. They can be caused by human error, or sometimes a machine can act up and damage the garment. You can have procedures in place to avoid mistakes as much as possible, but you'll never avoid 100% of them. Why is DTF better at handling errors then?
Simply because the design has to printed onto the transfer paper first. If a mistake is made, only the transfer paper is damaged and can easily be re-created, whilst a damaged garment would result in a much greater financial loss. This also helps with getting the design done right - When making a custom, original design using DTF, it can be improved upon in the 1st stage of printing it onto PET paper. When we're sure the design is perfect a quick heat-press will produce it onto the garment, which almost never goes wrong. Good for the business, and good for the customers.
5. DTF is efficient.
There's quite a few advantages that make DTF more efficient than other transfer techniques.
Does not require fabric pre-tratment
DTF is fast! High volume printers can produce 500 2″ X 4″ logo transfers in about 15 minutes.
Heat-pressing the design onto the garment takes ~15 seconds.